Why Choose Redkey's Local Box Truck Delivery?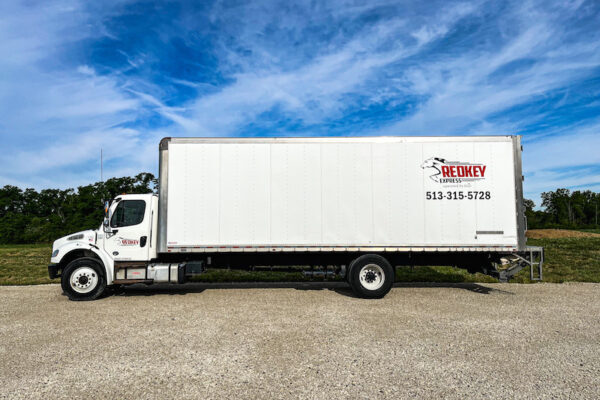 For delivery in Cincinnati and beyond, we find our box trucks–capable of carrying up to 12 skids and equipped with lift gates and pallet jacks for unloading–are often the most cost-effective choice. Delivery via a nearby box truck can have substantial advantages over less-than-truckload (LTL) shipping.
Smaller Boxtrucks for Better Fuel Efficiency
Box trucks are named for their shape, and are also known as cube trucks, cube vans, box vans or"rolling toasters." Having smaller engines, they can transport goods with better fuel efficiency than semi-trailers. That saves time and money, and helps the environment as well.
For customers needing frequent deliveries with fast turnarounds, Redkey Express always recommends the economical box truck. For drops in tight urban and suburban areas, this agile vehicle allows for easier dropoffs.
Other box trucks benefits include:
Reduced liability risk
Improved service for your customers
More convenient for volumes that don't fill a semi-trailer
Ideal for a wide range of goods
Easier to monitor your cargo
Straightforward pricing
You can get a box truck more quickly (vs. an LTL) for the last mile, especially when a liftgate is required for bulky cargo
For e-commerce, box truck shipping offers needed flexibility
Choosing the right vehicle comes down to your situation. Is your priority speed, price or service? How big is your load, and where does it need to be dropped?
The 24/7 dispatchers at Redkey Express can help you decide what vehicle is right for your cargo, timetable and budget. We have over 20 years of success recommending the option that balances each load's safety, delivery timeline and cost.
When you are searching for "box truck delivery near me," consider Cincinnati's Redkey Express. We have a large fleet of box trucks and our largest can haul up to 23,000 pounds.