When you Need it Picked up NOW, who you Gonna call?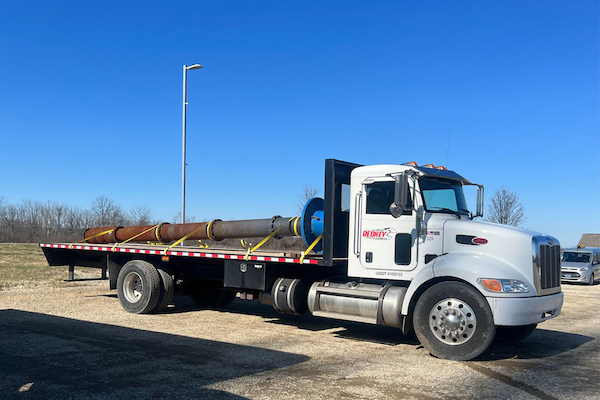 Redkey Express offers emergency Cincinnati hot shot delivery and pre-scheduled services with exclusive vehicle use.
With over 20 years of experience making emergency and time-critical deliveries, Redkey Express is your one-stop shop for time-sensitive shipping. We have equipment of all sizes and drivers qualified to use them all standing by at all times to accommodate customers' last-minute needs.
For direct/expedited delivery originating in Greater Cincinnati, we provide a dedicated vehicle. It moves straight from your pick-up spot to your destination. Why waste crucial time trying to put other customers' goods on the your truck. We understand urgency, and devote a single truck to transporting your goods, which eliminates time-consuming handling, cross-docking and sorting.
Delivery throughout the US
We are USDOT-certified with authority for the 48 contiguous states. Our fleet is late-model and meticulously maintained, ensuring that mechanical failures are virtually nonexistent.
Live Dispatch
You have the best chance of getting a driver and truck to your door STAT when you can reach a live human to discuss your needs. At Redkey, we have trained dispatchers answering the phones around the clock. They can put your order in immediately and often have the driver at your door within 90 minutes.
No Contracts
We don't use contracts. They limit flexibility, and we want to be able to turn on a dime as your changing requirements demand.
The Right-Sized Vehicle
To keep your Cincinnati hotshot shipping affordable, Redkey Express has a wide variety of equipment to accommodate shipments of any size, from a single letter to over 23,000 pounds.
Our team will work with you to select the optimal car, box truck, stake bed, cargo van, curtainside box truck or flatbeds to ensure safe and cost-effective transportation of your goods. In addition, our fleet is late model and meticulously maintained, ensuring that mechanically-related service failures are virtually nonexistent.
Small Enough to Listen, Big Enough to Deliver
We consider Redkey to fit into the sweet spot of hotshot delivery companies Based in Cincinnati. As a family-owned and -operated firm, we have a small enough staff to always stay on top of every delivery. If you have a problem, one call will get you answers.
At the same time, we have a big enough fleet and driver pool to meet any last-minute customer requests.
Over our 20+ years in business, we have continually grown, but always kept the firm small enough to provide personal customer service to every client.
We are a lot easier to hold accountable than a major chain.
People who need items delivered quickly return to us again and again, trusting they will get great service at a fair price. Having a delivery partner you can rely on adds to the service value, because you save precious time arranging for hotshot pick-ups and deliveries.
Shop Around
While an emergency doesn't allow a lot of time to call around, we do recommend you check a few options before choosing a Cincinnati Ohio area hotshot delivery service.
Consider price, speed, safety and service, asking questions like these:
How long have they been in business?
Have they grown in recent years?
How long have they been doing hotshot delivery?
Do they have a reputation for hauling the kinds of products you want shipped to your destination in the time frame you need?
What safety training do their drivers go through?
How long does the average driver stay with the company?
To find the best hotshot delivery service around, think value, not just price. The important question for a rush delivery is, "Can you deliver?"
Rest assured, Redkey Express can and will!